Dzaleka Refugee Camp is currently home to over 25,000 school-aged children, yet due to limitations in infrastructure and funding constraints, almost 18,000 children do not have spots in formal schools. Imagine Worldwide has partnered with refugee-led organizations in Dzaleka since 2018 to bring tablet-based learning to over 2,000 out-of-school and informally-schooled children. This story is from the perspective of the mother of one of the children in the program.
My name is Gentil*. I am a Congolese woman, a university graduate, a single mother, and a refugee. I bear the scars of war, having fled the Democratic Republic of Congo at 15 when rebel groups attacked my home. With my siblings, I sought refuge in Dzaleka Refugee Camp, where I was fortunate to receive a scholarship to study at Southern New Hampshire University. Today, I proudly hold a degree in Management with a specialization in Healthcare and a concentration in Communications. As an educated woman who understands the transformative power of knowledge, I am deeply passionate about ensuring that my children have access to a quality education, for it is through education that dreams take flight and lasting change is ignited.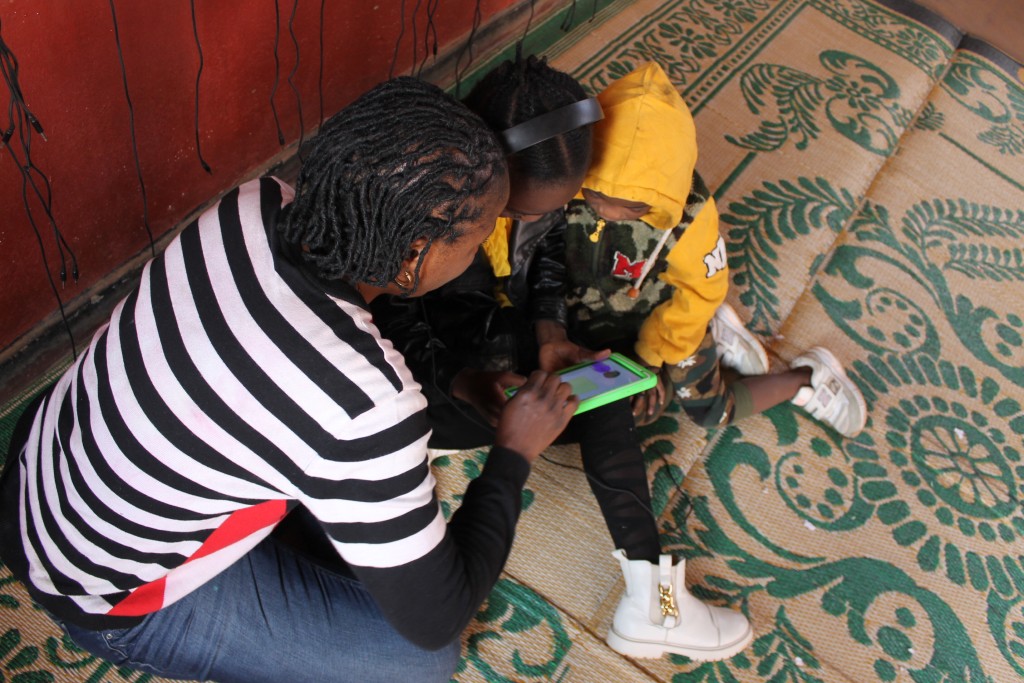 I am a single mother with two precious children, aged nine and four, who are currently enrolled at the community-run Integrity School, founded by the visionary Pastor Desire Farini. This remarkable school caters to over 800 children within Dzaleka Refugee Camp, and I feel incredibly blessed that one of my children had the privilege of participating in the school's tablet learning program introduced at Integrity by Imagine Worldwide in 2018.
The tablet program has been a game-changer, opening up a world of possibilities in my daughter's education. I am immensely grateful that my daughter was among the fortunate children to benefit from this program. In a refugee camp where opportunities are scarce and financial burdens loom large, this initiative has significantly enhanced her Math and English skills, setting her up for success as she continues her educational journey. I, as a struggling single mother, could never have afforded a tablet for my daughter. However, with the introduction of tablets at Integrity, I finally felt that my daughter would have the same rights and opportunities as children studying outside the camp.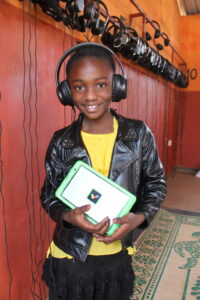 The sheer joy radiating from my daughter's face when she began using the tablet was indescribable. It was a dream come true for her, a monumental achievement. She used to feel disheartened when she watched her friends return from school, but now, the tablet program has transformed her life. Through this initiative, she has honed her English language skills, excelling in speaking, writing, and reading. Furthermore, the tablet served as a source of entertainment, with headphones transporting her to music, images, videos, books, and a whole world outside the camp. It kept her engaged, content, and happy each day.
The introduction of tablet programs within Dzaleka Refugee Camp has bestowed our children with invaluable access to skill development and knowledge acquisition. Witnessing the profound transformation in my daughter's education and the joy it has brought her, I cannot help but imagine the incredible impact that even more tablets could have on the lives of refugees in Dzaleka and beyond. The thirst for knowledge burns brightly within these young minds, and with expanded tablet initiatives, their potential could truly soar to new heights. I dream of a future where every child in Dzaleka Refugee Camp has the opportunity to embark on a similar educational journey, where tablets help even the playing field as a tool for empowerment and growth — wherever you are.
*Name changed for privacy