The background noise of chattering students and teacher voices could not obscure Nancy Cooper's enthusiasm for the Imagine Worldwide program. "I love watching the tablet class," she shared, discussing the education technology program in one of her schools in Sierra Leone. As the Academics Officer – Teacher Professional Development and Accelerated Learning at Rising Academy Network in Sierra Leone, as well as a parent whose child attends Rising, Nancy has witnessed firsthand the impacts of the tablet-based literacy and numeracy program that has been supplementing core curriculum in grades 1-6 since September 2021. "Students are more engaged in school and look forward to going to school every day because they get to use the tablet," she said.
Promising pilot leads to expansion
Imagine Worldwide conducted a pilot project in Sierra Leone from March-June 2021, in partnership with Rising Academies, which reached more than 200 children across two government-run schools in Bomotoke and Sembehun. Based on the success of the pilot in the government schools, Rising Academies decided to introduce the tablet program in four of its own private schools in Freetown. "Our team experienced first-hand the enthusiasm of students, teachers, and the wider community for tech-enabled learning, and were excited to introduce the program into Rising schools this academic year," said Stephanie Dobrowolski, Rising's co-founder and Chief Impact Officer. Plans are moving forward to bring the program to more than 30 additional Rising schools. 
Accelerating learning
Developing strong foundational skills in literacy and numeracy is a key priority at Rising and a major focus for Nancy in her role. "At the start of the school year, students were struggling because many of them did not know their letter sounds and names," she explained. "The tablet program directly supported what we were working on in the classroom and it helped students quickly learn their letters and sounds. Our students then began moving more easily through our FasterReading program, which made them happy."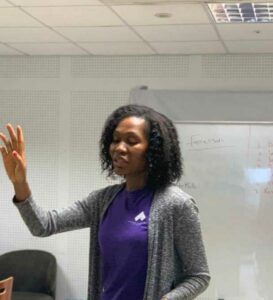 Nancy also saw students becoming more excited to come to school because they were going to be able to use the tablets. The tech-enabled learning is student-centered and adaptive, so children drive their own learning at their own pace, with support from the teachers as needed. "Even some of the children who have not been engaged in their lessons in the past are now reminding teachers when it is 'tablet time,'" she laughed.
Supporting teaching
Rising Academy Network schools encourage student-driven learning and the tablet program has helped support this type of instructional practice. For the younger students, teachers can employ the "I do, we do, you do" strategy to get children going on the tablet — which they then pick up quickly and need less support. Tablet use during the day also provides teachers with an opportunity to spend extra time with struggling students and reduces "teacher talk" in support of student-led learning.
Changes at home
Nancy Cooper has seen positive changes in her own son who began using the tablet through school, and not only academic changes. "He takes more responsibility for the tablet now," she explained. "He wants to make sure it is charged each night and that the right apps are loaded because he wants to progress; he wants to learn his skills."The parents of other students have also noticed the tablet program, with some actually coming to the school to watch the students use the tablets in the classroom. Some have lobbied for the tablets to be used every day as a way to introduce children to modern technology. According to Nancy, "Most university graduates in Sierra Leone never had the chance to touch a computer when they were young, but for the modern world our students need to know how to use computers and engage with the internet. Our kids now have the chance to learn using technology — that is why we have parents coming to the school saying they want it in the curriculum so kids can learn everyday."
Future of learning
When Nancy conducts classroom observations during tablet-time, she is most impressed with how independently the students are learning and how happy they are, with some even singing as they work. As the software program adapts to meet each child where they are, students are engaging in powerful, personalized learning. "The process allows students to learn through seeing, hearing, and being involved," said Nancy. "It is such a powerful method for student learning."