Community support for learning is a key component of successful and sustainable education initiatives. Imagine Worldwide and our partners are committed to working with and for the communities whose children we serve.  
Binduri is a small community located a five-minute drive from Bawku, a commercial town in Ghana sharing a border with Burkina Faso. Bawku has been engulfed in ethnic conflict for more than 15 years and there is gunfire almost every day. Despite these unfortunate circumstances, the Binduri community and its children still prioritize education as a pathway to a better future.
With our partner Afrikids, we are piloting our foundational literacy/numeracy tablet program in schools in Binduri, as well as in schools in Builsa South and Moagduri Districts of the Upper East and North East Regions of Ghana. (This is after an initial successful four-school pilot of the program in the Talensi District last year.) The tablet program supplements the traditional teaching model and is intended to help learning continue even amidst conflict and disruption.
Community involvement is a core element of our model, with opportunities for tablet demonstrations, feedback, and sharing research results. The Afrikids team recently completed a community demonstration day in Binduri where parents were introduced to the tablet program and were able to ask questions and watch as their children used the tablets.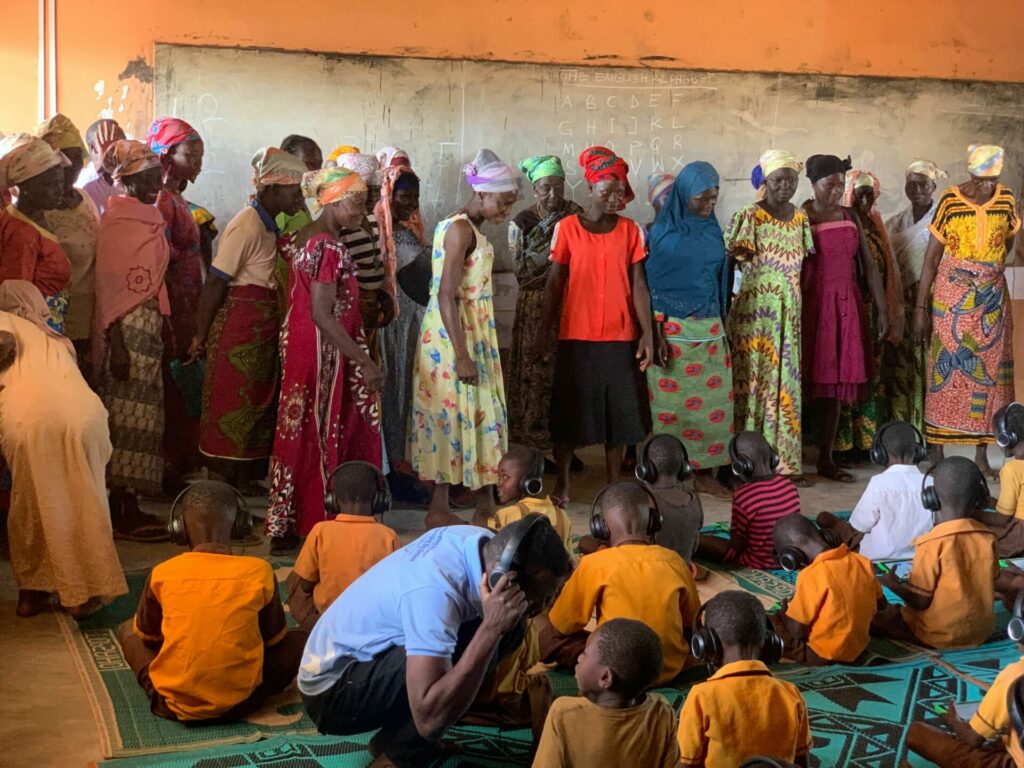 "Many of the parents were shocked at first sight, seeing their own children use a tablet," explained Victor Atipagah, Imagine's Program Manager for Africa. "The smiles all over the room, mixed with the sound of excitement from the parents, summed it all up."
Across our implementation locations, we have seen that community supporters play a critical role in reducing student absenteeism and increasing enrollment in schools. They can also be involved in ensuring the safety of the equipment within their local communities. 
"Without the involvement of the community to share ideas, to put plans in action, and to support the program, the community will never embrace whatever good intentions you have. There is always the need to involve key stakeholders in the community in your decision-making to gain their full support and understanding towards your intervention," said Zakariah Adapanga, Digitalization Project Coordinator for Afrikids. "In Binduri community recently, we managed to secure a local man who volunteered to be the school security because of the engagement with the community," he added.
Engaging local communities from the very beginning of the program — listening to their concerns, addressing their recommendations, and reporting back on progress — builds a sense of ownership among community members and ensures the ongoing sustainability of the learning program.
 LEARN MORE ABOUT OUR WORK IN GHANA
*Photo credit: Afrikids